Whole-of-Business Converged Communications Solutions
imei's mobility management and technology integration experience combines with an end-user-focus to form a single provider of communications solutions.
Our solutions range from mobile fleet management to cloud-delivered unified communications involving processes, services, hardware and software through to high performance networks, carriage and connectivity, and beyond onto helpdesk, support and training.
Comprehensive and Best-in-Class Technologies
imei is a member of GEMA - the Global Enterprise Mobility Alliance - which allows us to provide mobile management services in over 120 countries; we partner with Telstra – Australia's world-class tier 1 telecommunications company, and with leading global technology vendors Apple, HP, Mitel and Alcatel-Lucent for no-compromise reliability and performance.
Unmatched Customer Satisfaction
imei has made customer service a central element to everything that it does. We measure our customer satisfaction performance, ask for regular feedback and follow up our customer experiences. Our approach of driving operational excellence and having an up-to-date, robust product roadmap has helped imei to become a leading managed mobility and unified communications service provider to enterprise, becoming a trusted adviser and growing market share with key multinational corporations every year.
Quality Management System Standards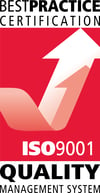 imei is ISO 9001 Certified - the international standard for a quality management system ("QMS"). The standard is used to demonstrate our ability to consistently provide products and services that meet customer and regulatory requirements and to demonstrate continuous improvement.